Los Angeles authorities are searching for several suspects in the beating of a 92-year-old man out for a walk on the Fourth of July. Eyewitness video aired on local TV shows the man on the ground moments after the attack, dazed and with blood streaming down his face.
The woman who took the video says he was struck with a piece of concrete several times in the head. Investigators say the assault happened as Rodolfo Rodriguez passed a woman as they walked on a sidewalk in the Willowbrook neighborhood. Authorities say a group of men joined in the attack.
A GoFundMe page set up by the victim's grandson, Erik Mendoza, to help pay medical costs, says Rodriguez suffered a broken cheekbone and severe bruising. In just three days the fundraising appeal surpassed its goal of raking in $15,000, by a long shot. As of early Tuesday, the GoFundMe page had garnered almost $156,000 in donations from more than 5,000 people.
Mendoza told CBS Los Angeles that his grandfather speaks little or no English and didn't understand why he was being attacked.
"I'm just overwhelmed how anybody can do this to a human being at all," Mendoza said. "He's 92 years of age. There's no harm that he meant for you to treat him the way you did."
According to another witness, identified by CBS Los Angeles only as "Catherine," the little girl's mother shouted "bad things" at Rodriguez as she beat him with her hands and then a chunk of concrete, including, "go back to your country, why are you here?"
The witness said she took her phone out and got a photo of the woman, who appears to be holding a piece of concrete as her child stands nearby. Rodriguez is not seen in the photo.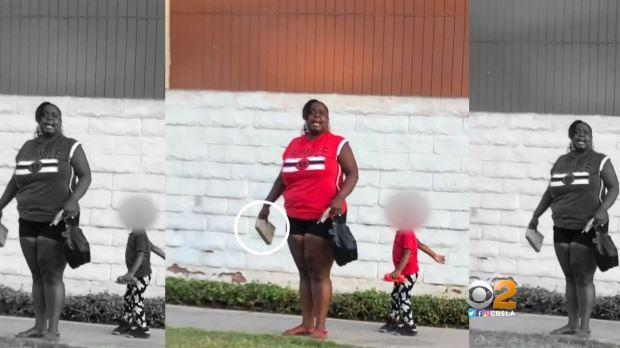 "When I take the picture, she said, 'Oh, he tried to touch my girl,'" the woman identified as Catherine told CBS Los Angeles. "I saw everything, this is a lie. And when the guys came, they hit him in the face, his body, everything."
Officer Tony Im said Monday that detectives had not identified any suspects.
Mendoza told CBS Los Angeles that he's still stunned and struggling to understand the attack on his grandfather, who has U.S. citizenship.
"That's the lesson you're going to give your child, for you to hurt elderly people because they bump into you?" he said. "I just want to know what was going through her mind."