The year is shooting along pleasantly as it always does for us here in the paradise of Puerto Vallarta, but not for everyone, it seems.
Around our condo there are some upset renters whose time is not passing happily at all. Those are the ones who believed what the internet described as "their kingdom in the sky" and declined to check on it.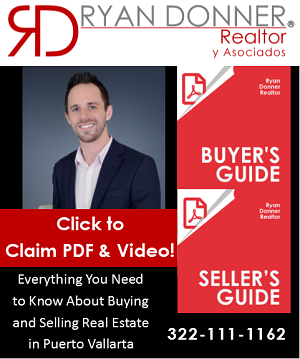 Over the years we have often received a visit from some friend of interested renters who have read about an apartment in our building and would like to inspect it on their behalf. I would recommend this approach to everyone using the internet as their guide, because — and this may come as a revelation to some — the internet lies.
The above-mentioned upset renters now face three months in an unsatisfactory situation after having paid a substantial amount of money to an address often not even in Mexico. Before anyone gets the idea that our building is not a slice of heaven, let me describe it for you. We live in El Centro, which is the most "Mexican" of the beach communities in downtown PV and the start of the Malecon (boardwalk).
Our barrio tends to be unilingual, noisy with dogs and roosters and the PV equivalent of the Matterhorn mountain. These salient points are generally not dwelt upon in the internet descriptions of condos for rent one sees.
We are mad for the place because we have the best view imaginable of Banderas Bay on the same latitude as Hawaii and constantly watch both whales and ships pass by. We also decided to give up our car and walk everywhere, which includes straight up and down our mountain. Because of that we have recovered our lung power, have stronger legs and have lost weight. We are forced to use our limited Spanish with our neighbours and shop in the community. We love that and have made the commitment of living there. Others not so much.
The unhappy renters had no idea that our street is a slog to have to walk every day, especially as two of them have had recent hip operations and can barely make it down a few steps to the pool. If they had known about the hills they would never have dreamt of staying here. Also the roosters and dogs, which have become "white noise" to us, are driving our visitors mad and creating anxiety all round.
They called in their rental manager, a guy who handles scores of condos around the city for absent owners, to complain loudly about farm animals keeping them awake all night. The manager just laughed and said, "Complaining about noise in a Mexican neighbourhood is like shouting at tides. It is useless."
This was not an acceptable answer for the now crazed renters, but what could they do? They would have been so much happier beside the beach on a flat surface, but they did not research their choice.
Over and over we hear horror stories about people arriving and not being able to reconcile the condo they saw on the internet pictures and the reality they are faced with. Two couples arrived here just the other day to vacation in a "beautiful two-bedroom with TVs in every room and wonderfully furnished."
It turned out to be the smallest two-bedroom in the building with one broken TV and a single couch. I saw them sitting, miserable, by the "Olympic -sized" pool, which is at best a dipping pool some three feet deep that could likely fit on most patios. There they showed me the internet photographs of the advertised accommodations. It was like day and night. They had also prepaid and were faced with two months of dreary holidays.
This apparently is not uncommon. A couple up the road arrived to find not the fab furniture promised but an empty apartment without a stick of anything. They are sleeping on blow-up beds from Costco and are doing their best to get the most out of a terrible disappointment.
I wish I could do something about this, but thousands of people come here and are delighted with what they find, which matches or almost matches what the internet depicted. But I still cannot believe people send money to strangers after seeing photographs that might be Photoshopped and bear no similarity to the reality. There is no going back once you pay.
This is Mexico, with very different laws than those we in Canada and the U.S. are used to. Don't be a victim. Buyer beware and have a great time.
Copyright Written by Christopher Dalton 2016
Photo by Aaron