 Baja California Sur, a captivating Mexican state located on the southern half of the Baja California Peninsula, is a treasure trove of natural wonders, including a diverse array of flora and fauna. Among these unique species, the Stenocereus eruca, also known as the "walking cactus" or "creeping devil," stands out as one of the most intriguing desert plants. In this blog post, we will take a closer look at the Stenocereus eruca, exploring its unusual growth patterns, ecological significance, and the captivating folklore that surrounds it.
Stenocereus eruca is a rare and distinctive cactus species endemic to the Baja California Peninsula. This peculiar plant boasts a serpentine, elongated body with a greenish-blue hue. Its stems can reach up to 6 feet (1.8 meters) in length, and its spines are stout, sharp, and range from 1 to 2 inches (2.5 to 5 centimeters) in length.
What sets Stenocereus eruca apart from other cacti is its unusual growth pattern. This plant grows horizontally, with the growing tip of the stem pushing forward while the rear portion of the stem roots itself into the ground. Over time, the older, rear sections of the stem die off, allowing the cactus to "move" or "walk" across the desert landscape. According to several scientific studies, the cactus can live for around 100 years and moves 5 to 10 years from the place where it is born to where it dies.
The walking cactus's peculiar growth pattern is a key survival adaptation to the harsh, arid conditions of Baja California Sur. By growing horizontally and rooting itself in multiple locations, Stenocereus eruca increases its chances of finding water and nutrients in the nutrient-poor desert soil.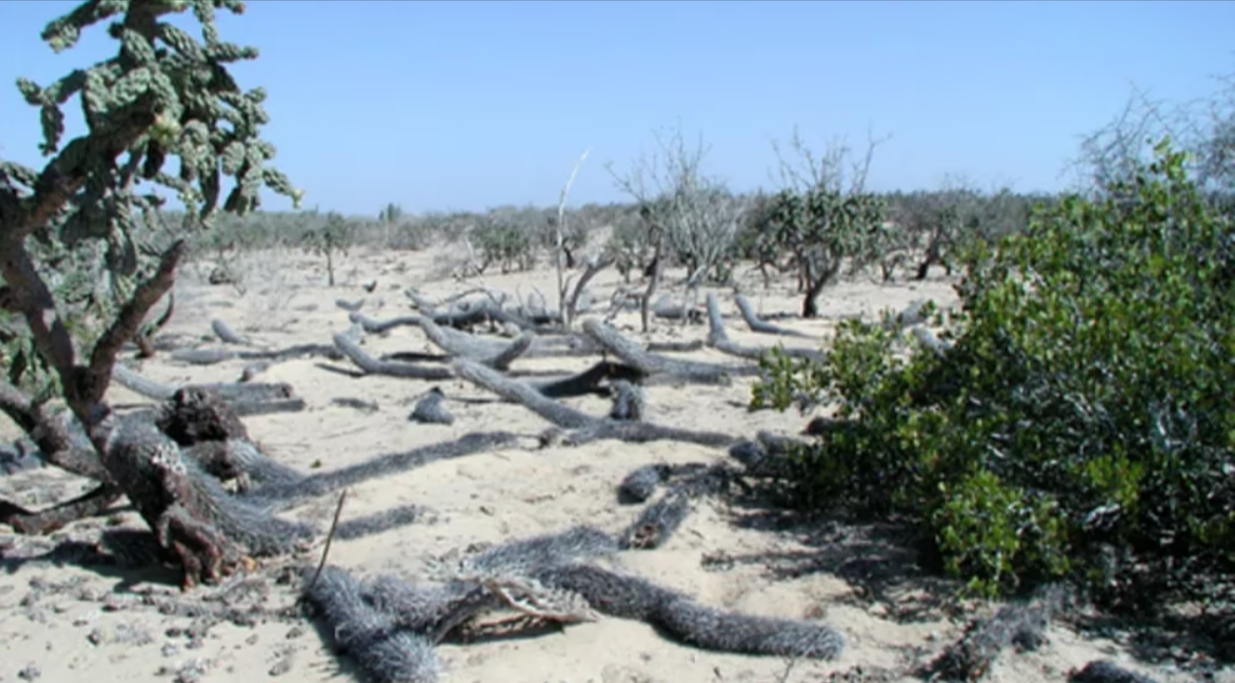 The cactus also plays a crucial role in the region's ecosystem. It serves as a nesting site for various bird species, provides shelter for smaller desert animals, and is a food source for both animals and insects. Its flowers, which bloom in May and June, attract pollinators like bats and bees, ensuring the continuation of this extraordinary plant species.
The indigenous peoples of Baja California have long held the Stenocereus eruca in high regard, utilizing it for various purposes. The cactus's fruit, known as "pitahaya," is a particularly valuable resource. The fruit is rich in nutrients, containing high levels of vitamins A, C, and B complex, as well as minerals like calcium, phosphorus, and iron. Indigenous communities have traditionally consumed the fruit fresh, dried, or processed into jams, beverages, and candies.
Additionally, the walking cactus has been used for medicinal purposes. Traditional healers have harnessed its therapeutic properties to treat a variety of ailments, including gastrointestinal issues, skin irritations, and respiratory infections.
The walking cactus's unique growth pattern has inspired various legends and folklore in Baja California Sur. One such story suggests that the cactus is a wandering spirit, cursed to roam the desert for eternity. According to another tale, the cactus is a mischievous shape-shifter that disguises itself as a snake or other desert creatures to startle unsuspecting travelers.
Due to the increasing pressure of human development, habitat loss, and climate change, Stenocereus eruca is considered a vulnerable species by the International Union for Conservation of Nature (IUCN). To protect this unique cactus, conservation efforts are underway in Baja California Sur. These initiatives include the establishment of protected areas, reforestation projects, and the propagation of Stenocereus eruca in nurseries for reintroduction into the wild.
The cactus has also become a target for plant collectors, who are looking for specimens to take home or sell. A single plant can be sold for between 4,000 and 5,000 dollars on the black market, its main destination being Europe.
For those who wish to see the walking cactus in its natural habitat, there are several locations in Baja California Sur where the plant can be observed. These sites include the Vizcaíno Desert, Cabo Pulmo National Park, and Sierra de la Laguna Biosphere Reserve. Guided tours led by experienced naturalists offer the best opportunity to learn about the plant's biology, ecology, and cultural significance while ensuring minimal impact on its habitat.
When visiting these locations, it's crucial to adhere to responsible tourism practices. This includes staying on designated trails, not disturbing the wildlife, and refraining from removing any plants or other natural materials from the area.