Puerto Vallarta (PVDN) – The Puerto Vallarta State System (SEAPAL) announced that a total of 130 neighborhoods (around 55 percent of those owned by the municipality) will be left without water for 36 hours due to maintenance work.
The agency reported that during this Thursday "we will work on the interconnection of Well 5 Ixtapa with the Iron and Manganese Removal Plant, to improve the availability of water in the neighborhoods in the north of the city." It was said that it affects a total of 130 neighborhoods of the 237 that the municipality of Puerto Vallarta, Jalisco has.
Service is expected to be restored on Friday at noon and with normal pressure returning on Saturday, barring any unforeseen issues.
The works begin as tourists arrive at the port for the Spring Break holidays and what is expected to be a busy weekend in Puerto Vallarta.
SEAPAL listed the neighborhoods in four columns where they appear: 12 de Octubre, Agua Zarca, Albatroz, Banus, El Coapinole, Ex Hacienda El Pitillal, La Aurora, La Floresta, La Primavera, Las Galeanas, Las Gaviotas, Marina Vallarta, Real Palmar, Rincón del Puerto, Sendero de Luna, Sendero del Parque, Vallarta 500, Valle del Mar, Villas del Sol, Vista Puesta del Sol and Vista de la Bahía, North Hotel Zone, among others.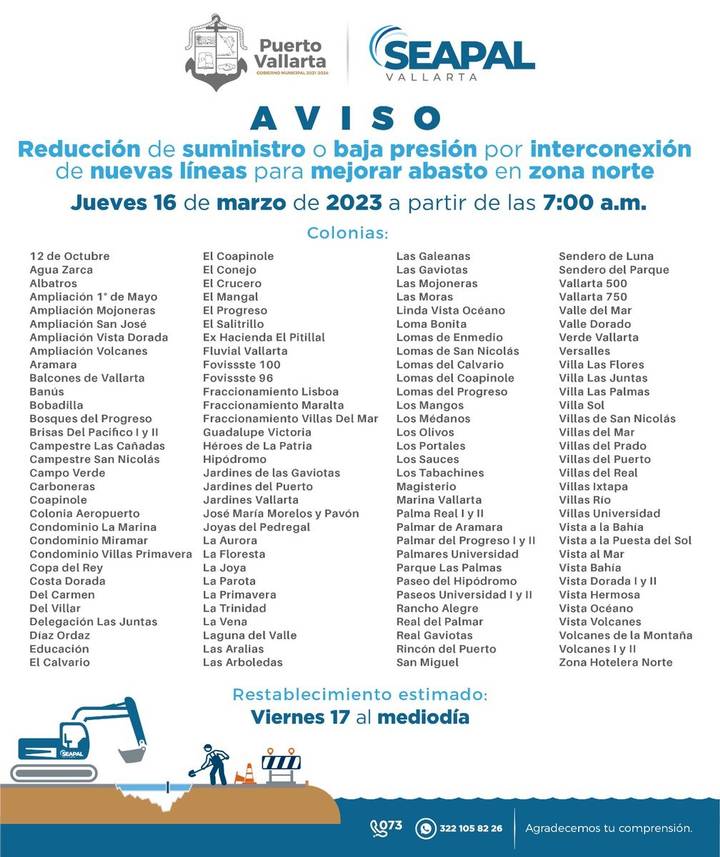 Subscribe here for as low as .08 cents per day to access exclusive content and join the PVDN Newsletter, and browse this site with fewer ads.
Trending news on PVDN