This is the second visit of this Coast Guard Cutter to Puerto Vallarta. The Sherman is now based out of Honolulu Hawaii but is on patrol along the Pacific Coast presently. She was based out of San Diego on her first visit.
Fourteen of the crew including the Captain STEVE WHITTROCK volunteered to paint the common room at the Corazon de la Niña. The Puerto Vallarta Navy League an old and popular AC has as one of it's primary goals to meet and greet all of the ships of friendly countries that choose to visit our most beautiful port. Part of the welcoming is to invite the chiefs and officers (including the crew when numbers allow) to Murphy's Pub located in the town center literally, the PVNL treat the sailors to food and grog with considerable indulgence by JON MURPHY who is a retired Coastie and although not Irish has the heart of one.
Another activity is the one you see whereby the PVNL organizes a work project in the Community and requests volunteers from the crew to participate. Once the work is completed a treat of a meal is proffered and this time at the Corazon de la Niña itself who hosted.
Here is an extract from the website of Corazon de la Niña which explains what they are all about. The head mistress a Canadian is a dynamic individual who is not only the founder but the driving force behind this wonderful endeavor.
Fundación Corazón de Niña  — Heart of the Child — is a registered not-for-profit organization (Mexico) that provides a nurturing family environment for at-risk girls and boys of all ages.  We typically have thirty-eight to forty-four children and youth aged four months to twenty-three years. About two-thirds of the children are girls. We have two homes in Puerto Vallarta — one for the girls and one next door for the boys.
We survive on faith, our wits and the support of many beloved individuals, businesses, institutions, community groups and service organizations who volunteer their talents, labor, financial and material resources to make Fundación Corazón de Niña the wonderful place it is. Fundación Corazón de Niña is entirely dependent on its loyal supporters for funding. We receive no stipends from local and state governments, themselves desperately short of funds. Fundación Corazón de Niña is the only residential resource for girls over the age of twelve in Puerto Vallarta.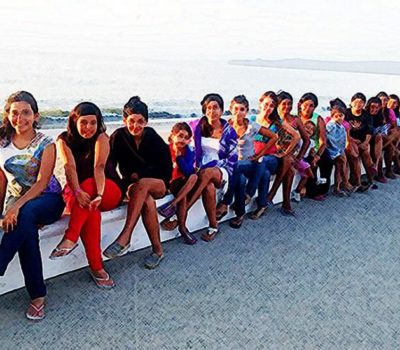 So a salute to Fundacion Corazon de Niña as well as to the 14 volunteers from CGC SHERMAN who graciously gave of their leave time, to help in this wonderful organization. Bravo!
For more information about the Puerto Vallarta Navy League contact:
Bill Semeyn Secretary
Puerto Vallarta Navy League
[email protected]
322-135-5506 cel
Fundacion Corazon de Niña: http://newearthvillage.com/corazondenina/