 A video of a dog running with a human head in its mouth shocked residents in Monte Escobedo, Zacatecas, and went viral on social networks.
The recording was made from a moving car, in the video, someone could be heard saying with surprise: "This dog has a human head" because he had the part of the body held from the victim's tongue. At first, the canine was walking slowly on the sidewalk, but noticing the presence of the car, the animal began to run around the block.
Various reports stated that initially, the head was abandoned in the ATM branch located a few meters from the City Hall, on the corner of Colegio Militar street. A drug message signed by the Jalisco New Generation Cartel (CJNG) was also found in the location.
A bloody head could be seen on the cardboard of the broadcast image, but it is not known if it is the same one that the canine was recorded with.
In the sign that was left by CJNG, there was a threat to an alleged member of the Sinaloa Cartel: "The next head is yours, Jaime Román Chávez, alias 5.3. Pu..s MZ (Mayo Zambada), Zacatecas, territory of the CJNG".
A member of the "Operative MZ", the armed wing of Mayo Zambada, arrived in Nayarit and Zacatecas in 2020, was the target of the threat.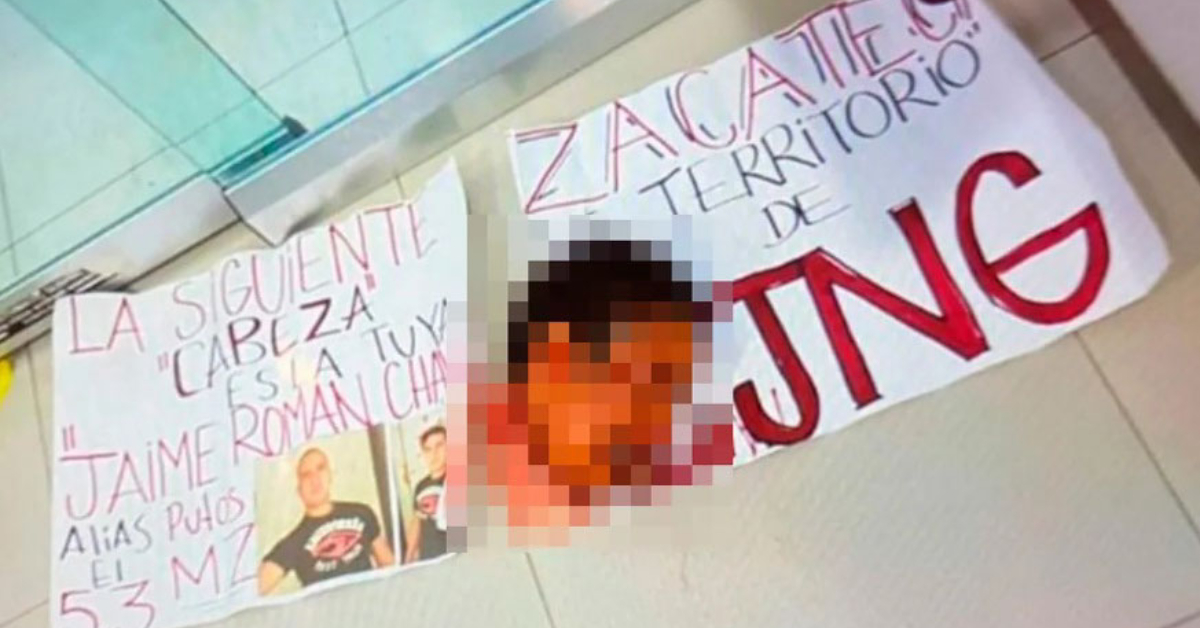 At the moment, it is unknown if the municipal authorities are already investigating the fact, and the identity of the head has not been released. Almost 10 days ago, the Sinaloa Cartel executed CJNG's "Comandante Ganso" and left a warning.
In the text, it was also mentioned that Zacatecas already had a leader, and according to the drug cartel, it would be El Señor del Sombrero. It was also signed by Operative MZ, identified as the armed wing of the Sinaloa Cartel.
An attack was recently recorded against the State Police facilities in Monte Escobedo, very close to where the human head was found, occurred last Thursday, October 20, the people who carried out these actions also set fire to a gas station and a car.
The aggression against police elements occurred when they attended to the fire caused near the municipal headquarters.
According to the Spokesperson for the State Peacebuilding Table, while the uniformed officers tried to arrest the subjects in question, they were attacked with firearms. Although the attack was repelled, one of the police officers was shot and injured.
After the exchange of bullets, the aggressors managed to flee towards an unknown destination, for which no detainee was reported.