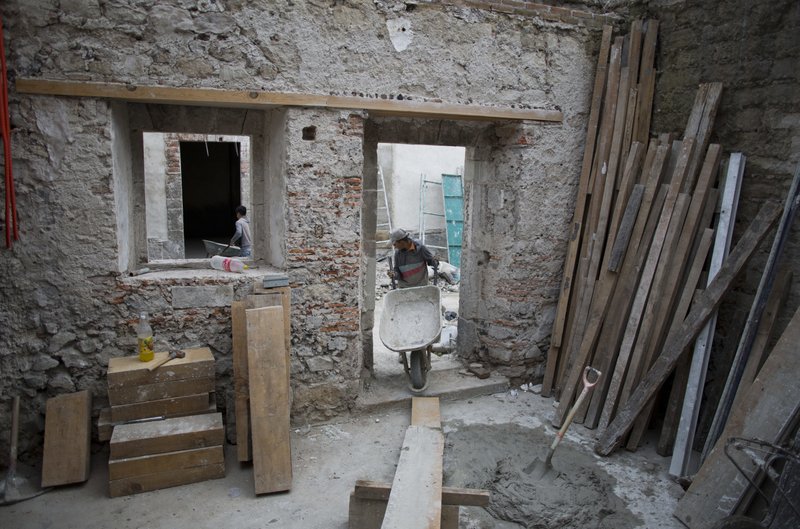 The plain, one-story stone-linteled structure sat hidden in plain sight for hundreds of years behind generations of street vendors hawking goods from stands outside its thick old walls. But experts have now concluded the building at 25 Manzanares Street is the oldest house in Mexico City, and one of the oldest in all of North America.
Its survival is a testament to the largely poor residents who inhabited it for centuries and to the builders who used a savvy mix of pre-Hispanic and Spanish construction techniques when they constructed it sometime between 1570 and 1600.
There are a few churches in southern Mexico and a few palaces — like the House of the Montejo in Merida, Yucatan — that may be a few decades older. But churches say little about how people lived, and the Montejo house is largely a facade whose interior has been re-done over the centuries by wealthy families.
The nondescript house on Manzanares Street survived dozens of magnitude-7 earthquakes and repeated floods, including one following a 1629 rainstorm that lasted five years.
Up until a few years ago, the old, sprawling home was used just about the same way it had been for 450 years: One family lived in each of the dozen rooms that opened onto a central patio. A stone wash basin was used to store water and for cleaning clothes.
Thick paving stones lined the courtyard, and water was cleared from the timbered roofs by stone rain spouts. The mason's marks carved into the quarry-stone lintels are stick figures and feather arrows, suggesting a pre-literate group of stone workers.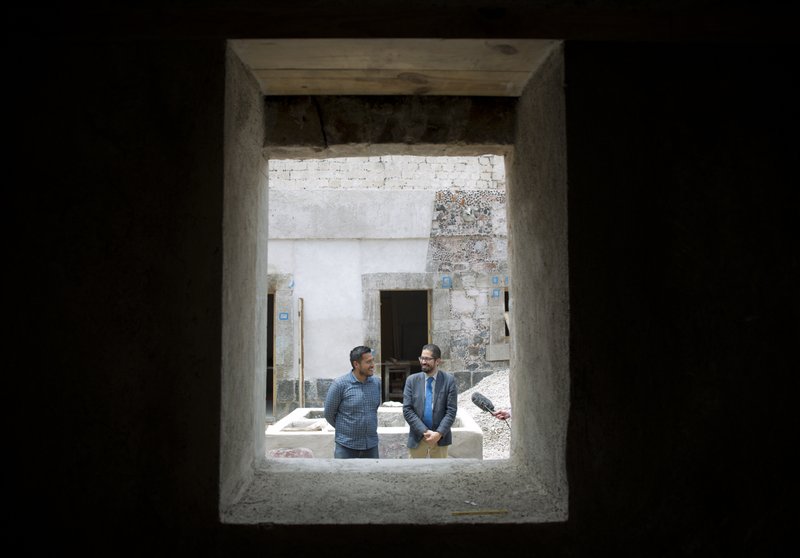 One larger room stands at the back of the courtyard, and smaller rooms line the sides up to the entrance.
"This house is laid out on a pre-Hispanic plan known as a "calpulli," a sort of extended family that formed the basic building block of Aztec society, said Mariano Leyva, the director of the Historic Downtown Trust, which is restoring the building for use as a community center. "It is a pre-Hispanic layout in which the father, the head of the family, lived with his sons, who would have worked in the same profession as their father."
Architect Emanuel Gonzalez, who's overseeing the project, points out the thick rock skirting around the base of the walls — a pre-Hispanic building method used to protect walls from humidity — and the 2-feet-thick composite walls made of stones, volcanic rock and adobe, also an Aztec mix. "This house is like a mix of both" Spanish and Indian techniques.
Today, the house is getting new roofs, and the centuries-old paving stones are being re-laid in the courtyard.
Though the house sits miles away from the nearest body of water today, in colonial times rivers and canals ran right up to it, bringing fresh produce from the city's outskirts to a street market.
Today, as it was centuries ago, the house is surrounded by the hustle of vendors shuttling their wares past in handcarts. A man steams corn in a giant galvanized tub on the sidewalk in front of the house.
Next door, Mario Tapia worries about what the improvements will mean. He hammers together wooden vegetable crates as he has done for the last 30 years on the ground floor of a crumbling two-story volcanic-stone house that is also clearly colonial. Its sagging wooden beams seem ready to collapse.
"If they make this all into a museum, they're going to kick us all out and we won't have anywhere to work," Tapia huffs as he piles another finished crate in the dim recesses of the old building.
Yet Manzanares 25 survived not despite its use for centuries as a "vecindad" — Mexico's warren-like, crowded low-income housing units — but in part because of that.
Rosa Maria Ubaldo Lopez, 79, was born in Manzanares 25 in 1938 when her mother paid 13 pesos — something like $3 — per month in rent for a one-room space, separated into different areas by curtains.
Her mother tended a fruit stand outside the doors of the old house, and Rosa Maria would herself raise eight of her 10 children there.
One thing they didn't do was change the house much: In most of the rooms, the old wood beam roofs remained until finally many collapsed under unusually heavy rains.
"It was pretty there, we all knew each other," said Ubaldo Lopez. "We would hold Christmas parties and Christmas dinner" with the neighbors.
"There was a man in charge of maintenance, Jose, and he would go up and sweep off the roof every week, to keep stuff from accumulating," she recalled.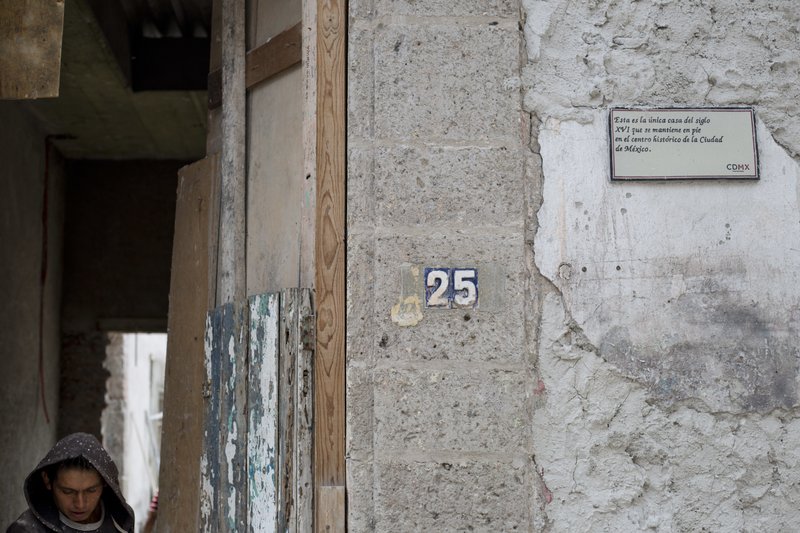 Leyva acknowledged that "this house has survived for a long time, without experts getting involved."
But he noted that the neighborhood around it, near the famed La Merced market, had declined. About eight years ago the area around Manzanares Street was a notorious red-light district.
"There was a terrible corridor of prostitution, and in this corridor, there were many who were underage," Leyva said. In part to erase or compensate for that past, the city wants the building to house literature and music workshops for children.
About four years ago, the city's low-income housing agency bought the old house, with plans to tear it down and build a modern apartment for people like Ubaldo Lopez on the land. Then researchers studying old maps and records realized how old it was, and the housing plans were abandoned. Ubaldo Lopez, who had been on the list of possible beneficiaries for that project, lost any hope of a new apartment for herself.
While she disagrees with some details of the restoration — like covering up the ancient stone walls under a layer of protective plaster — she somehow doesn't mind the project.
"Despite everything I'm happy because they are giving it a new life," she said.