During the Easter break we took a trip to Guadalajara. I had been hearing about this city ever since we moved to Puerto Vallarta and I was pretty excited to visit it. In this and my next article I will share my trip with you.
Getting there was our first adventure. After viewing the cost of tolls and gas, we realized that fueling our large truck and paying tolls would not be much cheaper than paying for a bus ticket and letting someone else do the driving. As the crow flies, Guadalajara is not that far from Puerto Vallarta, but there really isn't a good direct highway between the two cities yet. There is a new highway under construction, but until it opens, most people drive towards Tepic in Nayarit and then turn off and keep heading in land toward Guadalajara. This makes the trip between four and five hours depending upon traffic. The thought of riding in a reclining chair, watching the world roll by the window without the stress of driving was appealing to both my husband and me. At the recommendation of someone on Facebook, we decided to take a luxury double-decker bus. The seats were huge and comfy and the view from the upper level was fantastic as we made our way out of town and headed toward Tepic in Nayarit. If you have never taken the highway from Bucerías to Tepic or Guadalajara, you should definitely do it. It is a gorgeous mountain road that envelopes you in dense, dark green foliage. There are shocks of bright pink, yellow and red flowers and long leafy vines surrounding the road; the forest canopy hangs over your vehicle like a lazy parasol. Your vehicle can be weaving through trees for what seems like forever, and then you go around a bend and the valley opens up below you revealing kilometres of green mountains and valleys. It's breathtaking.
It's also stomach churning. The road is mostly one lane in both directions and also has more bends in it than a snake with a bad back. For about two straight hours our bus plugged along slowly with the numerous other vehicles on the highway, weaving back and forth rarely going faster than fifty kilometres per hour. My poor son was absolutely green, because mother-of-the-year failed to pack anti-nausea pills. He was forced to vomit in a little cubbyhole bathroom. Even if you are not prone to car sickness, I recommend bringing anti-nausea pills with you. I usually don't have any problems, but I too was feeling the sway. As well, bring a sweater. I'm not sure why, but the air-conditioning was on full blast for the entire trip. Well seasoned bus patrons brought on blankets and were wearing long sleeved shirts and pants. As we descended the steps at our destination in the Zapopan bus station I promised my son that we would be properly prepared for the return trip. Despite these discomforts I still believe that the beauty outweighs the bad. We learned from the experience and the return trip was much more pleasant. Okay, on to Guadalajara.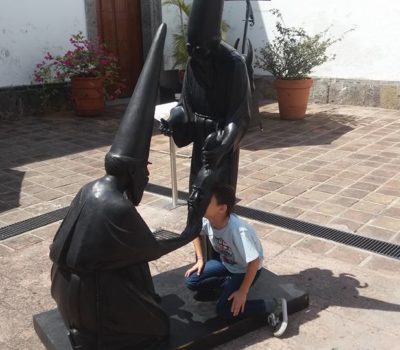 Let me get this out of the way. Guadalajara is big. According to Wikipedia, Guadalajara proper has almost 1.5 million citizens. Moreover, the Guadalajara Metropolitan area, which includes seven adjacent municipalities, has a population of 4,328,584 people, making it one of the largest metropolitan areas in Latin America. After being in Vallarta, it was rather shocking to be in a very large city again. The laid-back Mexican atmosphere that I have become accustomed to in Vallarta, does not exist in Guadalajara. When I mentioned the stark difference between Puerto Vallarta and Guadalajara to my dad he said, "Now you know why people go to Puerto Vallarta to decompress." Vallarta's roots as a fishing village and its slow west coast vibe became much more pronounced to me after my visit to the "big city". Guadalajara is a big place with all the accompanying bustle of a large city, yet it is still in many ways a family friendly place.
Once we got settled into our hotel, we hopped a bus destined for downtown and let the city pass by our bus window. One of the first things I noticed was the traffic. The metropolitan area sprawls extensively and traffic is often heavy. Drivers typically spend a lot of time in their cars waiting, so if they can make up some time they take full advantage of the opportunity! I used to think that Vallarta's drivers were aggressive, but they are sedate compared to Tapatíos (people from Guadalajara). If you happen to be a passenger on a city bus when the bus driver seizes the opportunity to make some headway—hang on! There were a couple of occasions when I had to stand on the bus; my knuckles were completely white and my arms ached from the work required to keep myself balanced while the vehicle barreled down avenues zipping in and out of lanes, occasionally cutting off other vehicles. There is no doubt that the roads are much better in Guadalajara than in Puerto Vallarta, but there is also some rather serious speeding.
The cost of riding the bus in Guadalajara is quite similar to Puerto Vallarta. Of course it did take longer than a taxi, but it was considerably cheaper and we got a bit of a "free tour". We quite enjoyed taking the bus, but were less enthusiastic about taxis in Guadalajara. Before we left for our trip, our nearest neighbours warned me that taxi drivers were likely try to overcharge us, because we are foreigners and recommended that we take the bus. I wasn't too concerned about this, because here in Vallarta I have had very good experiences with the taxi drivers. In general, they are very honest with only a small percentage trying to overcharge me. In fact, a driver once told me that I would be better off walking to my requested destination, because it was so close to us. This, unfortunately, was not the case in Guadalajara.
At the Zapopan bus station, the recommended taxi fares to the various colonias (neighbourhoods) are posted on a board by the main doors. I was told that these were a bit inflated, but would give me an idea of the approximate prices. Our hotel was in an area called La Calma in Zapopan. According to the guidelines, the price was about $120 pesos. In contrast, the taxi drivers we encountered outside the bus station said they wanted $180 pesos. When I pointed out that their price list said $120 pesos, there were a few uncomfortable glances shared between the drivers and the price dropped to $150 with excuses about the heavy traffic.
I wasn't quite sure what to do. We were blatantly being overcharged with flimsy reasons, but we had just spent four hours on a bus. Our son, who had been a little trooper and not complained at all, was the same shade of green as the Grinch and looked exhausted. I asked Clarence how much longer we wanted to make our son wait. My husband does not ruffle easily and decided to call the drivers' bluff moving over to the main roadway to either catch another cab or take a bus. The drivers pursued us talking to our backs, still trying to convince us. We waited about two or three minutes when a new taxi arrived. I inquired about a price and was quoted $100 pesos. Needless to say, he got a tip.
Using that trip and Google Maps on my husband's phone, we started gauging approximate pricing for taxis. Not surprisingly, if we were at our hotel or in the downtown core the first price quoted was almost always $180 pesos followed by hard bargaining. After the overwhelmingly honest treatment by Vallarta's taxi drivers, I was quite irritated by the gall of many taxi drivers in Guadalajara. Well over half tried to overcharge us, prompting my son to impatiently declare, "Mom, you look too white! I'm going to ask the next taxi driver!" He wanted me to wait behind a tree, but I refused. True to his word, he marched up to the taxi we were looking to hire and immediately got a fair price. I was shocked because he didn't have to negotiate at all, but from that point on he and I both approached the taxi drivers together and we got better pricing. I'm not sure why, maybe it's because he's nine and super cute, or maybe the drivers were caught off guard by a young kid who can negotiate like a well seasoned businessman. Whatever it was, it worked. From that day forward, taxi drivers finally stopped trying to take advantage of us.
Our first bus ride took us into the historic downtown. I am an architecture geek who can spend days just wandering around gawking at cathedrals, libraries, university buildings, plazas and museums. And that is just what we did our first two days there. We didn't really know where we were going, but followed the waves of people up a pedestrian street lined with every kind of store and fast food restaurant. By sheer luck we stumbled upon the Plaza Universidad and then shortly after the Guadalajara Cathedral. There was construction happening right in front of the cathedral, but that did not deter me. I made a beeline for the building not waiting to see if my boys were interested.
What I love about going into old churches is viewing all the incredible art and architecture. They are beautiful spaces that always inspire me. I walk around, head tilted back, mouth agape ooooooing and awwwwwing at this and that, practically stumbling over my own feet.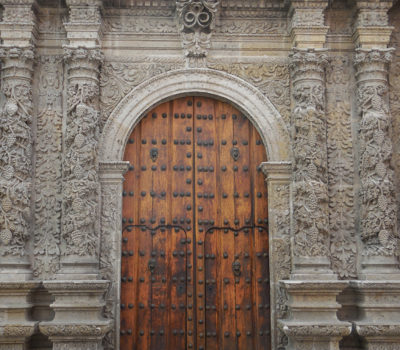 The cathedral did not disappoint me. It was breathtaking and filled with paintings, sculptures, gold leaf, carvings, stained glass, ornate woodwork, and candles. This time, however, there was another sight that amazed me—the people. When I have visited cathedrals in other countries it was never during a major holiday. There would be a few people praying in the pews and maybe one or two more going to confession. It made the churches seem like relics from the past that were no longer significant in modern life. That was not the case this time, because it was Palm Sunday. The inside of the cathedral was in perpetual motion. There were literally hundreds of people pouring into and out of the church. At the doors, multiple people were begging for money. Every pew was jammed from end to end with believers. The main aisle to the altar at the front of the church had a line of people three to four deep and it ran the entire length of the church. I think that they were waiting to receive communion. There was also another long line of people waiting for confession. I counted three separate priests who were just listening to confessions. On one side of the cathedral individuals were stopping to light candles and say private prayers. The church was alive with the energy of the congregation. It felt like I was wading through the waves of their faith; it was awe inspiring.
We walked the length of the church and found a small staircase under the altar where the remains of some cardinals and bishops were housed. When Ethan found out that we were basically in a tomb and that he was looking at real coffins, he said that it was creepy. Oh well, so much for awe inspiring!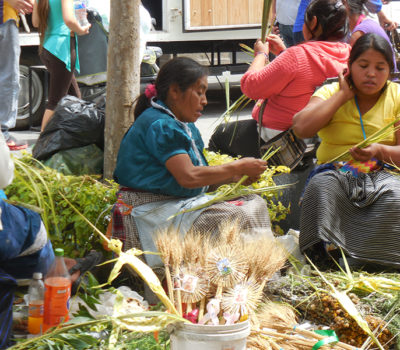 Most people carried ornately woven palm leaves that they bought in the downtown plazas. Artisans were weaving beautiful pieces of palm art right outside the churches. There were all types of designs including flowers and ornate crosses. They definitely made the plain crosses made from straight skinny pieces of palm that I used to get in Canada seem pretty lame.
We found another large church only a couple of blocks away from the cathedral, the name of which I will be darned if I can find, and it too was jammed with people. There was literally standing room only as the priest gave his Palm Sunday sermon. I caught a quick glimpse of the gorgeous decorations in the church, but was unable to go in and play tourist. The church was fulfilling its primary function as a vital part of Mexican society. Although I am not Catholic, it was still very moving to see so many people sharing such a profound experience. The Roman Catholic Church still clearly plays an important role in the lives of many Mexicans.
Churches are not the only centres of culture in Guadalajara. There are also many museums. The Regional Museum and the Instituto Cultural Cabañas (Cabañas Cultural Institute) are also housed in architecturally significant buildings. Normally, my husband and I are museum hounds, but since we have a highly active nine year old who isn't a true art lover, we thought it best to introduce him to art appreciation at only one museum during this trip. We chose what was called the number one tourist attraction in Guadalajara on Trip Advisor. According to my Wikipedia research the institute used to be an orphanage and later on a hospital. It is a collection of buildings connected by patios and gardens, some with fountains. Each room features a specific artist or a particular themed exhibition. One that interested me particularly explored the connection between poetry and visual art. Beside each work was the poem or excerpt of a poem that had inspired the visual art. I could go all academic and nerdy on you, but let's just say it is a theme that I really enjoyed. Overall, my husband Clarence and I were very impressed by the variety of styles and themes represented throughout the museum.
The centre piece of the museum, which I think used to be a chapel, houses multiple works by José Clemente Orozco, an artist whose work I did not know before that day. The building faces the main entrance to the museum complex and has four entrances, one on each wall. When you walk in your eyes are immediately drawn upwards. On the ceiling and walls are Orozco's murals. I believe the chapel was built in the 19th century, yet Orozco painted his murals in the 1930's. The juxtaposition of the two time periods is remarkable. They shouldn't go together, but they do. Orozco's work features long, sweeping, clean lines which complement the lines of the building's structure beautifully. As well, the paintings beg to be observed from a variety of angles. My son and I actually lay down on a couple of the benches to view the paintings on the ceiling from different vantage points. We were not the only ones. I overheard a guide telling his audience to look at the same painting from opposite sides of the room in order to appreciate various aspects of the work.
Our day at the Instituto Cabañas was exhausting, but very satisfying. We even managed to pique the interest of our son who initially was complaining rather loudly about boring museums. Although, a museum is still not Ethan's first choice for a fun activity, he did show an interest in a variety of pieces and also began to discuss themes and styles. As well, there is a kids' room where we had fun playing with puzzles and games with art themes. Finally, we amused ourselves by creating our own photo essay in one of the courtyards. Overall, I think it was a successful introduction to art appreciation.
The Instituto Cultural Cabañas was made a UNESCO World Heritage Site in 1992. After visiting it, I can easily see why. It is a place where the past and the present coexist in a beautifully symbiotic relationship. The old stone buildings are lovingly maintained and function like an elegant picture frame complementing the more modern art. Nevertheless, they are also fine architectural works with their own artistic merit. As you walk into one of the exhibition halls the art takes centre stage; then as you exit the exhibit, the art falls into the background and the historic buildings take their turn in the limelight.
Guadalajara in general also reflected this balance between old and new. It is a city that loves and respects its history, but it also has no fear of also being very modern. Many of my coworkers had told me that the shopping in Guadalajara is great. There is a large selection and often cheaper prices than can be found in Puerto Vallarta with its "tourist pricing". In total we visited three different malls during our week in Guadalajara. My coworkers did not lie. The selection of stores and merchandise were impressive, however, one thing was a bit surprising. We hit a large suburban mall one day, because we needed a few items. We got off the bus and walked the last two blocks to Galerías Mall. When we arrived we were dumbfounded. It looked like a large American mall. It had a glossy modern façade with many of the major chain stores that could easily be found in the U.S. Honestly, if I hadn't known that I was in Mexico I would have sworn I was in southern California. In fact, while we were in an elevator discussing this Twilight Zone feeling of being in the United States instead of Mexico, a man sharing the elevator with us agreed. He told us that he had moved from L.A. a few years ago, and that he too had the sensation of being in California at this mall.
It was startling to me that much of the signage was in English. Things like menus also relied heavily on English, yet the majority of the clientele appeared to be Spanish-speaking Mexicans. I truly am amazed at the marketing power of those American companies. There I was, a Canadian in Mexico shopping alongside Mexicans, and we were all browsing and buying at American retailers. Moreover, it was completely normal for all of us. Now THAT is brand recognition! Part of me questioned whether it is a good thing to have foreign companies with that much financial and cultural influence across borders. But then the other half of me said to shut up, because our dinner at P.F. Chang's was fantastic. As well, all those companies are creating jobs. In the end, I debated myself (Can you do that?) into a stupor. I think that for me, as long as there is a balance between large international companies and home-grown businesses I'm okay with it. The key is that we as consumers don't forget the little guy. I know that after this trip I have become a bit more conscious of buying from local businesses. I like the convenience of the large chains, but I love the variety and personality that comes with small businesses.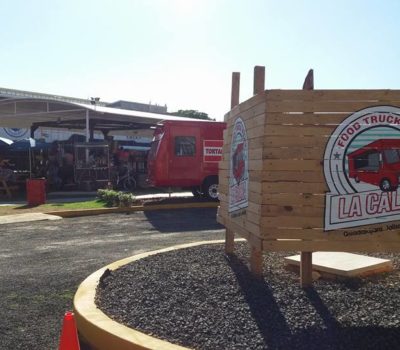 Lest that you think we only ate at the mall, we also discovered some nice quality local eateries. The La Calma Food Truck Park which was less than a block from our hotel on Avenida López Mateos Sur boasted a good crêperie and a great burger place called Mind the Hamb where my hubby indulged his need for meat. As well, there is a taco stand at the very back of the park which had some of the best orange juice and flavoured waters that I have ever tasted. There were also lots of places offering desserts of all kinds and a bar that featured swings for seats! Lastly, they also had a small playground for the kids. The Food Truck Park is less than a year old, but seems to be gaining in popularity. It's definitely a great spot to take the family.
As you can tell, I really enjoyed my week in Guadalajara. It is a truly amazing place to explore. It is filled with culture, history, architecture, shopping and yet is a wonderful place for family time as well. I cannot wait to visit again. My husband, my son and I have already started our "must do" list for next time. Next month, I will talk more about the "family friendly" aspects of the city.
References
To get a bit of background information about the historical buildings in Guadalajara I referred to Wikipedia. Here are the links if you want to explore these themes a bit more.
General information about Guadalajara: https://en.wikipedia.org/wiki/Guadalajara
Hospicio Cabañas (Instituto Cultural Cabañas) information: https://en.wikipedia.org/wiki/Hospicio_Caba%C3%B1as