Latin America is full of many New Year's Eve traditions, it's not so easy to just ring in the New Year, there is a ritual to ensure that 2018 will be better than 2017.
From wishing over grapes, potatoes under the bed, cleaning house, underwear choices, and ragdolls, the steps you need to take for the New Year can seem overwhelming at times.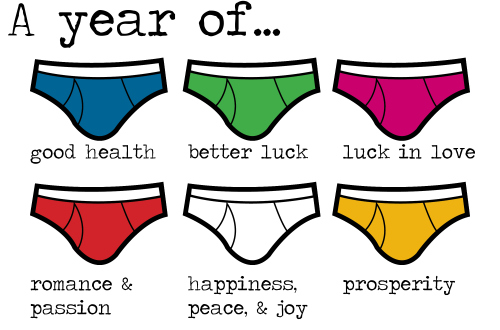 Choose your underwear wisely:
In some parts of Latin America people believe the color of underwear they have on at midnight can influence their luck in the next year.
Yellow: Prosperity, Wealth and Success
Red: Passion, Romance and Love
White: Peace, Harmony and Happiness
Blue: Good Health, Wellness and Tranquility
Green: Life, Nature and Well-Being
Pink: Luck in Love, Harmony
You can also put those underwear on inside-out if you need new clothes for the new year. For all those who laughed at you for accidentally putting on your undies inside out…well, let's just say it's time for you to get the last laugh. Wearing your underwear backwards on New Year's Eve and fixing it during the first few minutes of the New Year will guarantee plenty of new clothes in the new year.
Get cleaning!
On December 31, scrub down your house and throw out any trash (yes, even those unread magazine's you've been hoarding) to cleanse your home from any negativity and to attract positive energy into your life. While not many would like to spend the morning of New Year's Eve mopping the bathroom floors, this ritual will help you get a fresh start in the New Year!
Make your 'lista de deseos'
Similar to the widely practiced tradition of making a list of "New Year's Resolutions," a lista de deseos (wish list) for the new year should include all those goals you're hoping to reach next year AND those less tangible wishes like "Finding The One" or "World Peace." Whatever it is that you put on your list make sure to also write how you plan to meet those goals or help realize those dreams.
Then, fold it in half and after the clock strikes twelve read it to yourself. Keep it and refer back to it throughout the year.
Drop the wine, grab 12 grapes:
The New Year begins, make sure to eat 12 grapes–representing the 12 months of the new year–while making a wish for every month/grape that you have.
But beware! Get a sour grape and that could mean a bad month is in store for you. Also, many believe the grapes MUST be consumed within the first 12 minutes of the new year–or else!
Sweep away negative energy:
If this year brought you nothing but problems, suffering, tears, etc then it's time to sweep it all out of your home–and your life. On New Year's Eve simply take a broom to the front door and start sweeping towards the street. This ritual should rid you of all the negativity you've harbored throughout the year.
Burn baby, burn!
Before midnight, take some time to write everything you'd like to forget from this year and then simply burn it up. Once you've buried the past you'll be ready to take on the New Year without all that dead weight on your shoulders!
Just a spoonful of lentils:
The grain is widely used in all sort of rituals in Latin America to attain economic abundance. In this tradition that originated in Italy, eating lentils throughout the last day of the year, or a spoonful immediately at the beginning of the New Year, will guarantee that the next year will be filled with riches!
Wash away your worries:
In this New Year's Eve ritual water symbolizes all of the suffering and tears you'd like to get rid off before the start of the new year. Whether it's a glass or a bucket full of water, splashing your woes out on the street can be the best way to put the past behind you!
Light it up!
Nothing says clarity and prosperity like light, so many Latinos make it a point to welcome the new year by having all of the lights in the house on. Turn them on just minutes before the clock strikes 12, but don't leave them on too long or the first gift in the new year will be a hefty electricity bill!
Starting off on the right foot:
As you're counting down the final seconds of the year, making sure only your right foot is firmly on the ground can bring you good luck in the new year. If you ever see someone doing a flamingo stance just at the new year arrives, then it's likely they are keen to this New Year's Eve superstition.
Leave it to the potatoes:
In Colombia, on the night of the 31st, its a tradition for many to throw three potatoes underneath the bed: one not peeled, one half peeled, and one completely peeled ("pelado"). Without looking, you must reach underneath and grab the first potato you bump into. Colloquially, if someone is "pelado" this means they are financially "broke." Thus, if you grab the potato that is completely peeled you will find financial hardship in the new year, half peeled means some economic troubles ahead, while a potato that's not peeled can mean money is in your future!
If you want to celebrate the New Year with some Latin American tradition, you better get busy now, it takes a lot of work to make sure 2016 is the best year yet!
Happy New Year from Vallarta Daily news!