Semana Santa is the Spanish term for 'Holy Week' and is the week preceding Easter. The week celebrates the last days of Jesus' life beginning with his arrival in Jerusalem and through Easter Sunday.
As part of the holiday traditions throughout Mexico, and many Latin American countries, the Passion Play or the Passion of Christ is reenacted throughout several communities in Puerto Vallarta, including a precession through downtown to Plaza Lázaro Cárdenas where a reenactment of the crucifixion is presented on Good Friday. The community of Pitillal also delights many locals in their reenactment on Good Friday, one of the area's most popular events with the locals.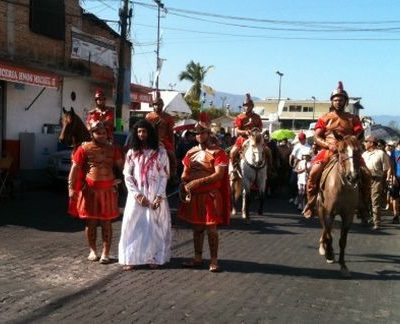 Despite the serious nature of the holiday and symbolism in a largely devout Catholic country, Puerto Vallarta is still extremely vibrant and buzzing with tourism. During Holy Week the city comes alive with music, art, and cultural activates around the city to commemorate the holiday week.
Semana Santa is popular for national vacationers as it's the last vacation before the summer, and rains, that many employees are given time off, combine that with the final days of Spring Break vacations and the religious travelers, Puerto Vallarta receives its busiest times and marks the end of the official tourist season with a diverse crowd of national and international travelers.
On the beaches of Puerto Vallarta during Semana Santa you can expect the waters and sands to transform into a sea of people and beach umbrellas from the hotel zone and south into Playa Los Muertos, Conchas Chinas, and points further south into Punta Negra.
Visiting Puerto Vallarta during Semana Santa offers a great opportunity to not only experience the religious culture of Mexico, but also celebrate the last days before Summer in the city known as the friendliest place on earth.