It is a fact that there are living creatures that remain hidden in darkness, in the depths of the ocean… Nonetheless, there are others as the noctiluca scintillans –also known as the sea sparkle- whose main ability is 'shining', thus creating a night show that's almost impossible to forget for those lucky ones that get to witness it.
These microorganisms are part of the plankton in the ocean, so when they detect 'threatening' movement nearby, they produce a chemical reaction that projects a cold light, creating a bioluminescent effect over the water, a natural phenomenon that can be observed in some Mexican destinations. Coming up, a quick list of Mexico's bioluminescent beaches: Holbox, Quintana Roo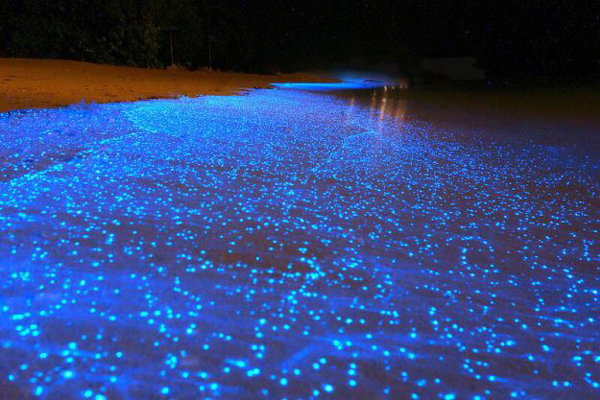 In the dark nights of summer, a bright blue light illuminates the white beaches of Holbox; these are noctiluca scintillans glowing because of the gentle movement of the Caribbean Sea. As the waves go and back to the shore these microorganisms emit flashes of light in silver, green and blue tones.
Holbox is a small fishermen island in the state of Quintana Roo, its warm atmosphere and rustic accommodations, makes of it the ideal place to enjoy nature.
Xpicob, Campeche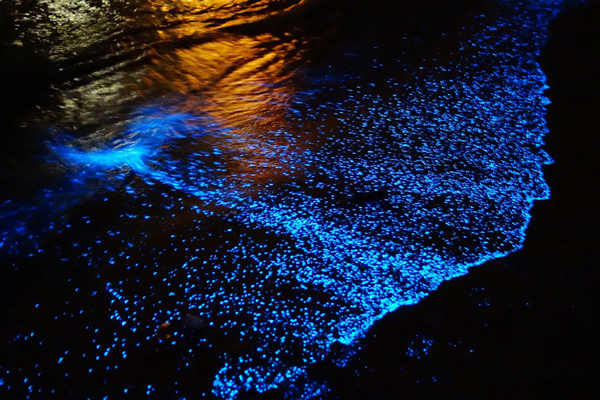 Another place to observe this unique natural phenomenon in the Yucatan Peninsula is Xpicob, a beach 15 kilometers away from San Francisco de Campeche, where the lights are so bright and intense that sometimes you can see the fish at the bottom of the sea.
To access this area we suggest you purchase a guide to lead you through the correct places to admire the bioluminescence.
Laguna de Manialtepec, Oaxaca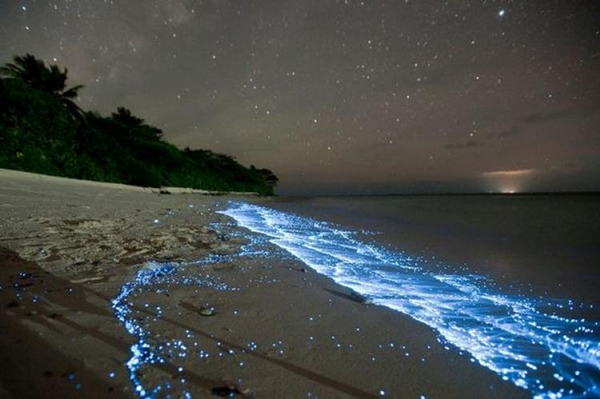 Just 16 kilometers from Puerto Escondido, Oaxaca, there is the Manialtepec Lagoon, another place where you can admire is this amazing spectacle of nature, that beside other destinations, here you can sail the water using a kayak and watch closely how this microorganisms react to the oars contact.
Parque Nacional Lagunas de Chacahua, Oaxaca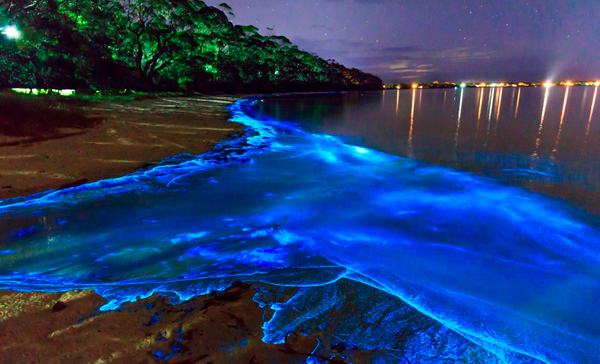 In one of the bays of this national park a long carpet of green and blue colors is formed on the water, an effect that that gives this destination an exotic and mysterious touch. Like Holbox, this place is inhabited by an extensive fauna and flora; we're talking about more than 130 species.
This paradisiac place is 45 minutes northeast of Huatulco, Oaxaca and its ideal for surfing, admire nature and get lost watching spectacular sunsets. You don't need to worry about the accommodation; there are ecological hotels to host those adventurers who come to this magical corner of Mexico.
By Fernanda Duque Hernández