An Extortion Ring in the US has deep roots in Puerto Vallarta with the head of the criminal organization spending nearly a decade as an expat in the city before returning to Kernersville, North Carolina in 2019.
The head of the criminal group, James Lawrence Wilson, works with his sister Laura Peoples of Kernersville, NC, and crime partner George Lebar of Pynsalvania to extort and blackmail residents of Puerto Vallarta and other locations in Mexico and the US.
The group's scheme starts with James Lawrence Wilson contacting a target and demanding upwards of $50,000 USD to prevent the extortion ring from making slanderous and libelous statements about their victim in an attempt to damage their business, family, and personal reputations within their community.
Until you pay the $48,000, or I or you die I will continue to humiliate you on all social media outlets… (James Wilson)
When the target refuses to pay the blackmail, George Lebar and Laura Peoples enter the scene to play victims of an alleged criminal act carried out by their target.
The group claimed their target caused harm to Summit Communication Systems, a business that the criminal group claims to be owned by James Lawrence Wilson and Laura Peoples. A PVDN representative has reached out to the only Summit Communication Systems that is registered to do business in the State of North Carolina and they informed us there is no association between their company and any individuals in this extortion ring.
The registered owner of Summit Communication System in North Carolina is Thomas Jordan Brockenbrough , Jr, formed in 2011, according to public records.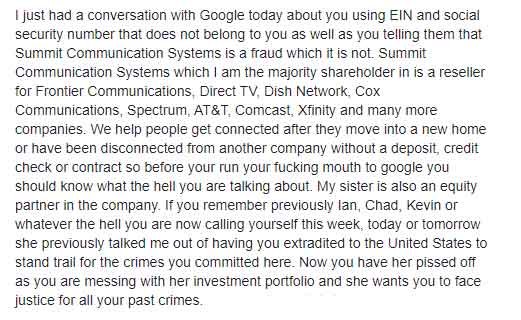 James Wilson has yet to provide any evidence from Google that his social security and EIN numbers were being misused or any evidence that Summit Communications System was reported as a fraud by their target, as requested multiple times. The company has never been formed as a legal business entity or named 'shareholders' with the Secretary of State of North Carolina according to public records.
A PVDN representative did contact Laura Peoples in which she informed us she has no business dealings with her brother.
I am not involved in any business with my brother. (Laura Peoples)
In another instance, George Lebar and James Wilson claim to be majority shareholders in their victim's business, an LLC that by law does not have shareholders, and George Lebar and James Wilson were unable to produce any legal documents or organizational agreement that prove their ownership. The team blackmails their target for thousands of dollars and demands that property of the LLC be turned over to James Wilson and George Lebar to end their slanderous and libelous actions against the target.
After the trio each claim to be a victim of a false crime perpetrated by their target, Mr. Wilson will then demand more money from the target or they will go to the police and FBI with their fabricated story. They also claim to have people within the US Federal Government in DC, a nod to the idea that they have people willing to abuse their power to support their criminal activity. While not explicit, the seemingly otherwise unrelated bit of information follows a demand for $48,000.
My sister and I descend from four Presidential families and the majority of the family who reside in Virginia and Maryland still work for the federal government in some manner including my sister's sister in law. My father worked directly for a North Carolina Governor and my mother is a retired federal employee. (James Wilson)
If the target continues to refuse to pay the demands, the criminal group moves to stage three by finding friends and/or business associates of their target through Facebook and pressure the acquaintances of the target to pay, or help them force their target to pay, by threatening the associate's business and personal reputation through libelous crimes.
The group defends their extortion, slanderous and libelous crimes as a First Amendment Right. Additionally, the group accuses other individuals of conspiring against them, fictitious and even deceased individuals.
While residing in Puerto Vallarta, James Wilson ran multiple scams and libelous crimes on local businesses and private citizens, both expats, and Mexican Nationals.
Mr. Wilson manages a Facebook profile dedicated to the crime ring's libelous postings aimed at victims who refuse to pay their extortion costs, from claiming a gay man has a 'life long disease' as a way to disclose the HIV status of one of their targets, a federal crime, and more importantly immoral act. Facebook has yet to be proactive although the criminal gang has been using the platform for nearly a decade as leverage against their victims.
James seems to disclose the HIV status of one of his targets and claims another is raping kids in Puerto Vallarta.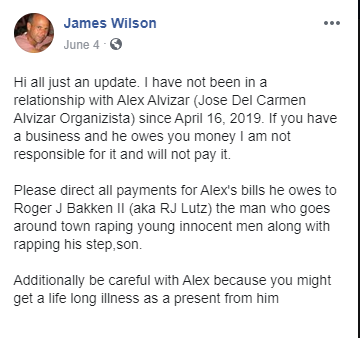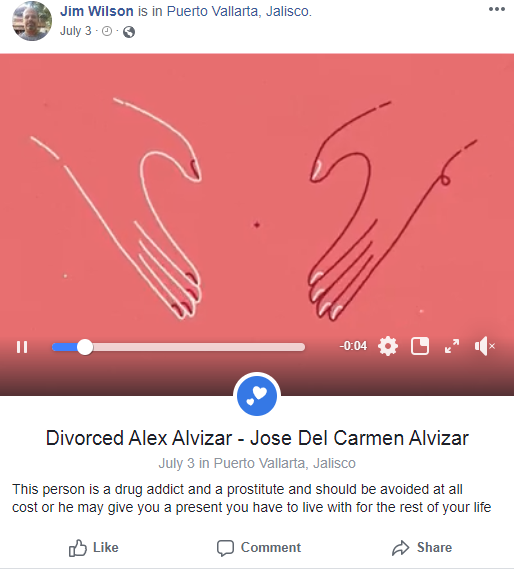 Mr. Wilson's tactics are well-known to business owners in Puerto Vallarta, from his attacks on Trattoria Michel, Sapphire Beach Club, Ron Morgan Real Estate, Gay Guide Vallarta, Ted Fuller, and many more known, and possibly unknown victims in Puerto Vallarta.
The criminal organization appears to target individuals that they have met previously and have been able to extract some personal details about to build their target profile. However, there are numerous cases where the group has threated individuals that they have never met.
It's also reported that James Wilson maintains what has been described as a 'Kill File' on his computer with photos, personal information, friends, and business associates of individuals he is building an extortion file on for future targets.
When asked if James Wilson can prove any of the claims against his targets, his only response was to remove mention of his sister.
I expect all post related to my sister to be deleted or edited immediately removing her from them. I expect the Facebook post to be removed. If it is not done I will simply contact your hosting company of your server and have your account suspended. I do not think you want your entire server and websites for clients to be put in a permanent state of suspension which would not be a good situation for you. (James Wilson)
James Wilson refers to his sister, Laura Peoples, in nearly 100 documents provided to PVDN by four separate individuals being targeted. It's unclear how much Laura Peoples is aware that James Wilson is involving her in his extortion plots or if she is aware that James Wilson is claiming she has been victimized as part of his extortion demands.
PVDN has uncovered a web design business created in 2016 and owned by James Wilson and George Lebar by the name of WebpageWeaver.Com. Their website and portfolio consisted of images of works that were not created by their company.
It's unknown at this time how many people, if any, fell victim to their fraudulent web design company or where they obtained the stock photos used in their 'portfolio'.
Access to the design website has been removed but listed as a 'Wilson-Labar Company'.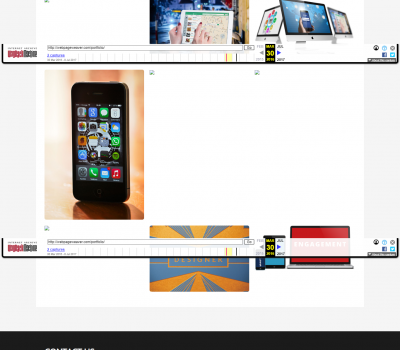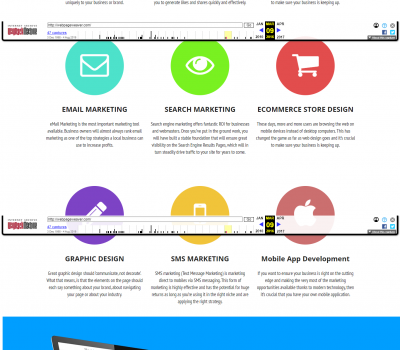 The screenshots above are from the group's shell website design company and an exact replica of transformmarketingllc.com, a design company located in Hertfordshire, UK.
PVDN is currently investigating claims that George Lebar is receiving disability insurance in the State of Pennsylvania while not disclosing his ownership of at least two businesses that PVDN has confirmed, one business he has claimed to own for over a decade.
The concern of this extortion group was first reported to PVDN by Christopher LaGrone, the original owner of this news outlet who has since sold PVDN. This news outlet has obtained over 100 pages of documents, nearly 40 social media posts, and at least six other victims have come forward to collaborate this report.
By the request of James Wilson, PVDN has started the publication of all emails and documents in our possession supporting this story. PVDN has hundreds of documents to be released, you can follow the email dump here.
A formal complaint has been filed with the FBI field office in North Carolina where the extortion group is currently based.
If James Wilson, George Lebar or Laura Peoples (or any other individuals) contact you through the internet, you should not respond and immediately file an Internet Crime Report with the FBI and call your local police.
File an Internet Crime Report with the FBI: https://www.ic3.gov/complaint/default.aspx/
If you feel that a company or individual owes you money, it's important to handle the matter through legal channels. Extortion and blackmail are crimes under all circumstances and public statements known to be false but used to harm an individual or business are criminal. There is never an exception in which you can demand money from an individual in exchange for not targeting their business or personal lives with known false statements.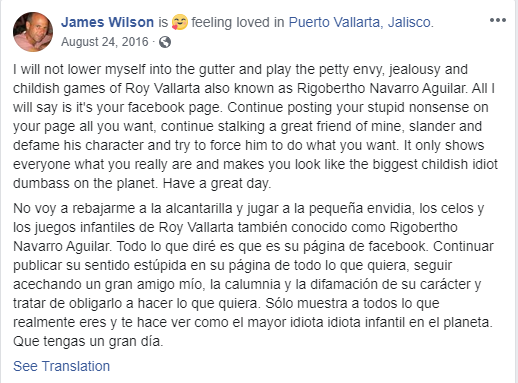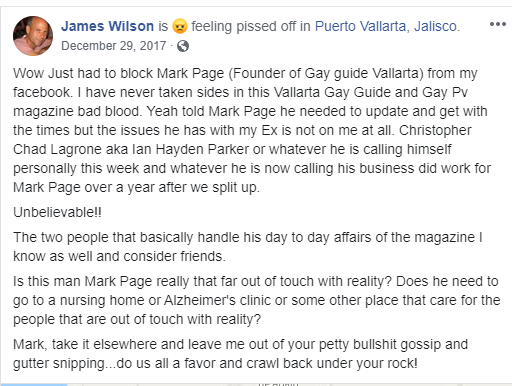 This article has been updated to include James Wilson's response to PVDN to remove all mentions of his sister from this article.
Many of the extortion posts on social media have been removed by James Wilson since the publication of this report and Microsoft has sent the group a cease and desist letter from using their email platform to conduct criminal activity, case #SRX1484537315ID.