Tropical Storm Aletta has become the first named storm of the 2018 Eastern Pacific hurricane season, and another area of low pressure off the Mexican coast could become the second named storm this weekend.
Aletta is just under 400 miles off the Mexican coast. Infrared satellite imagery shows impressive thunderstorms near Aletta's center, and high clouds to the north indicate the tropical cyclone has good outflow aloft to support strengthening. Aletta is expected to strengthen to the season's first hurricane no later than Thursday. According to the National Hurricane Center, there is a chance Aletta could experience a period of rapid intensification, defined as an increase in maximum sustained winds of at least 35 mph in 24 hours or less.
Fortunately, a dome of high pressure aloft will steer Aletta away from the Mexican coast on a general west-northwest track into early next week.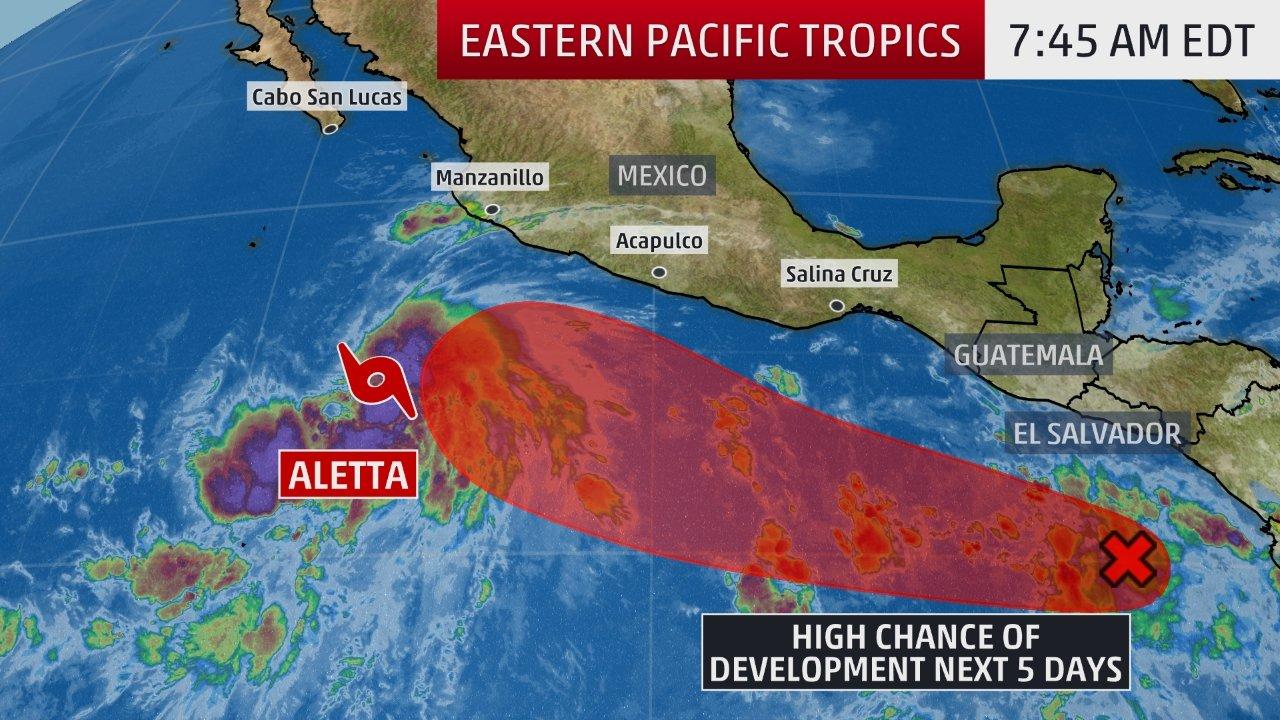 To the east of Aletta, another area of low pressure may develop this weekend south of the Mexican Riviera.
The NHC is giving this second system medium odds of development into a tropical depression as soon as this weekend. If it eventually becomes a tropical storm, it would earn the name Bud.
It's too soon to determine if this second system, assuming it develops, may eventually pose a direct threat to parts of the Mexican Pacific coast next week.
However, there are indications among our numerical model guidance that "Future Bud" may track closer to the Mexican coast next week.
For now, interests along the Mexican coast from Acapulco to Zihuatanejo, Manzanillo, Puerto Vallarta and Los Cabos should monitor the progress of this second system into next week.
At least some peripheral impacts are possible near the coast from each system, even if the centers of both systems remain offshore.
Some outer bands of heavy rain could push ashore, at times, through next week, possibly triggering local flash floods if they persist in any area for a few hours at a time.
High surf will be generated, propagating first to the southern Mexican coast, then pushing northward toward the Baja Peninsula, including Los Cabos, late in the week or into the weekend. Breaking waves and rip currents will be a threat along those beaches into at next week.
The average date when the first named storm forms in the Eastern Pacific Basin is June 10, according to NHC data from 1971 to 2009.
Jonathan Erdman is a senior meteorologist at weather.com and has been an incurable weather geek since a tornado narrowly missed his childhood home in Wisconsin at age 7. Follow him on Facebook and Twitter and subscribe to The Weather Channel podcast on Apple, Google Play, Stitcher, or wherever you get your podcasts.