Since my last article about our trip to Guadalajara, I have gotten many bits of advice and comments from people with more knowledge about the city. I've enjoyed reading people's comments. One theme that got multiple comments was my experience with taxis. I have gotten mixed advice about how to get the best taxi prices. Some have told me to always use the meter, because it is always cheaper. While others warned that the meter can be problematic if there is a large amount of traffic and you are stuck waiting. From these people I was told that sometimes it is cheaper to agree on a set price. It appears that the debate continues…
My son is nine years old and very active. For him, seeing amazing architecture, visiting historical sites and museums are okay activities, but they aren't fun with a capital F. I think as he matures he will learn to appreciate doing these things, but right now they aren't at the top of his list. In this article I will explore some of the activities that we did in Guadalajara that were of more interest to a nine year old boy and his parents as well.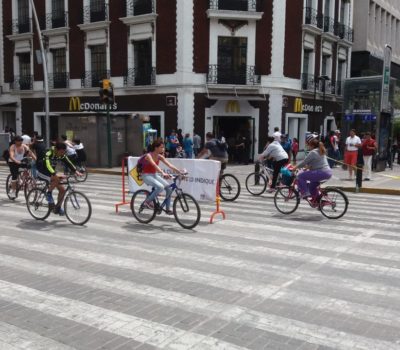 We are a cycling family, so we notice anything that is associated with two wheeled motorless transportation. When we first moved to Puerto Vallarta we were excited to see that the city closes Francisco Medina Ascencio to motorized traffic on Sunday mornings and Wednesday evenings so that people can cycle, roller blade, or walk in a safe environment. We were not expecting something like that in Guadalajara, but on our first full day there we made a heart warming discovery. As we rode the bus into the downtown core we saw roads that were completely blocked off to vehicular traffic. Instead, the lanes were filled with bicycles! It was just like home, but on a much larger scale. All of us had the itch to get on a bike, but unfortunately we had no idea where to rent one or how long the streets were closed to cars.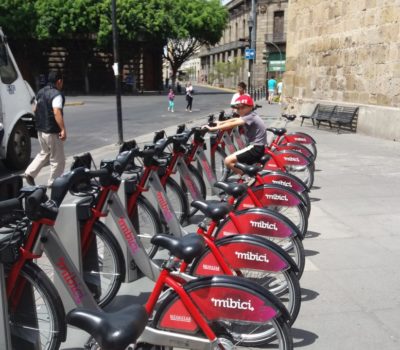 When we arrived downtown, we made another delightful discovery, self serve bike rentals! We were walking across a plaza and saw a line of cruiser bikes locked up. We wandered over and took a peek. The bikes were locked up to a bike rack with the locking system being controlled by small consoles. From what we could tell, once payment was made the bike is then automatically released. When you are done, you return the bike to one of these automated rental bike racks. All in all it is a very cool idea and a wonderful way to reduce carbon emissions. Unfortunately, they didn't have any children's bikes, (I think their clientele are mostly commuters), otherwise we probably would have jumped on and gone for a pedal. Clarence and I agreed that before our next trip to Guadalajara we were definitely going to research bicycle rentals and take a two wheeled tour of the city.
After checking out the bike rentals we wandered and window shopped our way up a long pedestrian mall. The name on a building caught my eye, Friki Plaza (pronounced Freaky). Friki Plaza is a very unique shopping experience. If you love comic conventions, video games, cartoons, anime, or trading card games like Pokemon you will love this mall; it is a flea market for anything related to these forms of entertainment. (I did mention that I have a nine year old son didn't I? You know what is coming next.) My son Ethan lives for video games and is also a Pokemon freak. He has a massive collection of cards; and he along with his friends regularly compare, brag about, and trade these cards. Unfortunately for him, there is really only one store in Puerto Vallarta that carries new Pokemon and it is expensive. So when Ethan found Pokemon cards at a lower price in Friki Plaza, he was over the moon with joy and my wallet was much lighter. It wasn't just Ethan who enjoyed looking at all the merchants in the plaza I also had fun muddling along through the various booths. There was so much wonderful junk! What I liked the most was the memorabilia and costumes from cartoons, movies and comic books. There were also mementos from a variety of video games and anime movies, which I am afraid that I am too old and certainly not hip enough to have any idea what they are. Nevertheless, I still appreciated the art. In a moment of weakness, I was tempted to buy some Wonder Woman leggings but unfortunately (or maybe fortunately) they did not carry them in a large enough size for me. If you have kids, they will definitely go crazy for the place. Ethan enjoyed it so much that he continually found excuses to ask if we could go back on another day. Knowing what that would mean to my pocket book, I replied that we would not be returning to Friki Plaza because we wanted to do other things on our trip.
After we had explored the downtown area for a few days, we decided to take a day and go to the zoo. We had heard from a variety of people that the zoo was a great family attraction and they didn't lie. The zoo is a big, modern and well-maintained facility that has a sky car ride, train, aquarium, playgrounds, and a large variety of animals. It was not the cheapest activity that we did in Guadalajara, but we got a coupon from our hotel for the "diamond" pass which included the zoo and all the extra attractions for a reduced price. We felt that we got good value for our money. We spent the entire day there and still did not see everything, which was fine by us. We enjoyed ourselves so much that we will definitely go back.
For me, one of the biggest highlights was getting a fish manicure at the aquarium. Right beside the ray exhibit was a good sized pool that was getting a large amount of traffic and more than one squeal of delight. We couldn't figure out what the attraction was, but dutifully washed our hands as instructed and headed to the waist-height pool. When we arrived at the poolside, we followed the instructions on how to submerge our open hands in the water. We were then strictly warned not to attempt to hold or pull the fish out of the water. I was not prepared for what came next. The fish, about the size of minnows congregated around my outstretched fingers and began to nibble at my skin! What an odd sensation to have my cuticles chewed on my little pouty fish mouths! I can't remember the last time I had a manicure, so the fish were having quite a banquet, let me tell you. It kind of tickled until one started gnawing on a very raw, red hang nail. Wow, my hands shot out of the water as if it were boiling! I let out a laugh and wasted no time in getting my hands back in the water with a bunch of tiny mouths eating the dry skin off my hands. Apparently in some countries, this is considered a very luxurious type of manicure, but my husband Clarence thought it was just icky and refused to try it.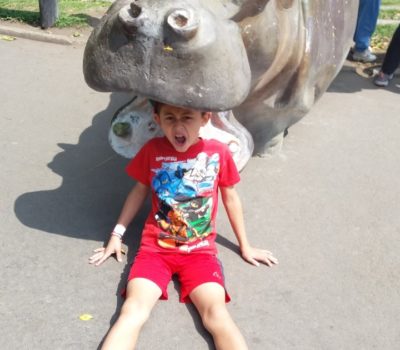 We had another close encounter with a much larger animal at the giraffe enclosure. There was one giraffe in particular that was very friendly. It really liked my son who was seated near the fence of the exhibit. Ethan's new spotted buddy leaned over the fence, sniffed his red t-shirt, and then tried to eat it! I think it must have been part goat, because it tried multiple times to nibble his shirt. Other people tried to get the giraffe's attention, but it wouldn't give them a second look. The animal only had eyes for Ethan and his snazzy red couture.
The reptile exhibit was also very impressive. It was large and housed a wide array of animals all of which were easy for the public to see. We were especially impressed by a humungous python. Its skin was the most beautiful shade of yellow, reminding me of creamy French butter. It was so large that its body was as big around as one of my thighs and at least 10 feet long. Forget trying to eat my son's shirt. This animal could have eaten my son! Despite this, I doubt Ethan would have hesitated to pet the large reptile if given the chance. It was an amazing animal.
We enjoyed our whole day there with the exception of one attraction, the zoo train. This ride takes you on a circuit tour of the zoo highlighting various animals and has three stations. If you mistakenly decide to board the train at station number three as we did, you are only allowed to board the train if some of the other passengers who boarded at station one, decide to disembark halfway through the tour. Understandably, most people didn't get off, because they wanted to take the whole tour. Moreover, those of us who got on at station three were required to get off at station one, meaning we only got half the tour after an extensive wait. At one point a tractor pulling a trailer that was clearly meant for maintenance was met with cheers and jeers from the Mexicans waiting in line. We had all been waiting nearly an hour by that point and many of us would have gladly clambered aboard the trailer. Actually, it was quite a shock that this attraction was so poorly organized, because everything else about the park was very well maintained and managed.
In contrast, the Sky Zoo ride was delightful. It is basically a ski lift chair that takes you on an out and back tour of the zoo over the course of a half an hour. My son had a great time trying to get people's attention on the ground by yelling at the top of his lungs. To his delight, a few people did hear him and he got a couple of friendly waves. Thank goodness, because despite my multiple reminders he just couldn't stop hollering at the passersby below us. Once he met with success, he finally stopped exercising his lungs. We also passed over many enclosures and got a bird's-eye view of the lions as well as other animals. At the turn around we were treated to an amazing view. I have no idea what it was but it looked like a large natural park. It was gorgeous. We got a quick glimpse of rounded rolling mountains and a valley with lots of trees; then the chair took a sharp right and brought us back on our return trip. I only have one piece of advice; hold onto things like hats, flip flops and sunglasses. Although bags were not permitted on the ride we received no reminder to remove loose hats and sandals. Ethan nearly lost his flip flops because I totally forgot that they could easily fall off. My husband riding behind us, desperately yelled at me to take Ethan's sandals off before one of the lions ended up using them as chew toys. We manage to get them off and I made the rest of the trip with his sandals stuffed into the waistband of my shorts so that we wouldn't lose them. (Yep, I'm a parent.)
The last major attraction that we visited in Guadalajara was Bosque Colomos. Everything we read said that this large park was a great way to get out of the hustle and bustle of the city. Unfortunately, we went on Good Friday and it was wildly busy, but we still had fun. There are many activities and sights throughout the park including horseback rides, fountains, playgrounds, arts and crafts booths, and a Japanese garden.
For us the first stop was the Japanese garden. It was lovely. Carps swam in the various ponds pouting at their neighbours, the turtles. The turtles in turn, lazily swam and sunned themselves with their noses in the air, ignoring the fish. Normally, I love this kind of garden, but it was so busy that it made the experience less enjoyable for me. I couldn't stop and admire the small details, because there always was someone behind me who wanted to walk by. I felt like I was on a conveyer belt always being rushed forward. It was not very calming. We left the garden and meandered up the main path toward a playground that we had seen on the map at the entrance. We never made it. Instead we were sidetracked by an unexpected activity.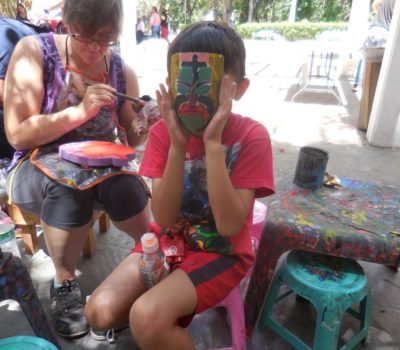 I was pleasantly surprised by the presence of craft booths in the park. There are two different stands that sell crafts that you can paint and take home. One sells wooden items while the other sells ceramic items. The paint supplies are included in the price. You buy the item and then paint it right there in the park. I think that the owners had intended this to be a children's activity, because all the tables and chairs were kid sized, but there were still many adults hunkered over their masterpieces painting alongside their children. My son, who normally could care less about art, stopped in his tracks and practically begged to paint. A mask that looked very Aztec to him had caught his eye. The prices were reasonable, so I selected an apple trivet and we both set to work. The paint brushes and paints were not of the highest quality, and balancing my bottom on those children`s chairs was quite a challenging glute workout, but I still had fun. Doing crafts with my kid doesn't happen very often, so when I get the chance to do it, I savour the experience.
It was very hot at the park that day, but there were still many opportunities for shade from large coniferous trees throughout the park. In fact, some of the footpaths were completely covered in a carpet of old tree needles from these giants. It surprised me to find conifers in Mexico, because I had incorrectly thought that they only grew in colder climates.
These trees fired up my imagination. They were very tall with the branches starting quite high off the ground. They reminded me of lodgepole pines with extra long needles, but that description doesn't do these trees justice; they had too much personality. Imagine a lodgepole pine. Now, give it a mullet. I'm not kidding! I'm not sure what the species is called, but my vote is for hockey player pine. If it is possible, I want one of these for my next Christmas tree and then I'll decorate it with hockey themed ornaments! Actually, I am not a huge hockey fan (I know. I'm a very bad Canadian.), but I am a fan of schlock. And I don't think it gets much schlockier than a hockey themed Christmas tree with mullet like needles! The only question would be which player to use as the angel? Gretzky? Too obvious! Maybe Orr? That seems more classic to me. Wow! That was one heck of a tangent. Where was I? Right! I was talking about the trees in Bosque Colomos. I told you that they fired up my imagination!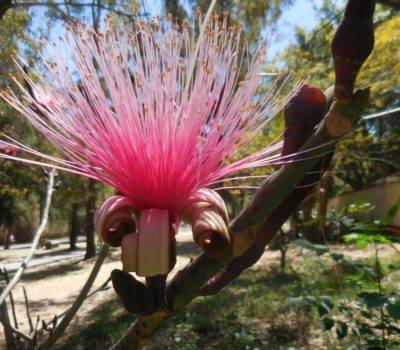 Another plant of interest that we came across was a bush that looked almost dead. It had grey dry looking bark with no leaves, and would have looked quite sad if not for the shocking pink flowers that sprouted on the ends of the seemingly dead branches. These hot pink flowers looked like something that Dr. Seuss would have dreamed up with and so we dubbed these plants truffala trees like those in the book and movie called "The Lorax". The contrast between the vibrant pink flowers and the dull grey bark of the bush was so stark that the three of us wandered around one of the bushes examining it from all angles. El Colomos was a truly wonderful place. My only regret was that we couldn't spend more time there. There were hiking/jogging paths going in all directions that begged to be explored, but we ran out of time that day.
We also did some activities closer to our hotel that aren't truly considered touristy, but were still fun. There was a bowling alley about a ten minute walk from our hotel and on two occasions we went and bowled during their disco bowling evening. There amidst booming pop music and black light, Ethan made his first strike and beat both Mom and Dad at bowling for the first time.
We also discovered a wonderful local park with a soccer pitch and a large playground very close to our hotel. One evening after supper we went over to let Ethan run off some steam. He played with some other children, but when the game turned to tag, they were not able to keep up with Ethan's speed. Soon, he turned his sights on Mom. In the end, the game became cat and mouse tag with my son literally running me from one end of the park to the other, in and out of the evening shadows, and up and down the playground equipment. My husband was not feeling well that night, so he became our spectator as we ran from one corner of the park to the other. If you ever need a great cardio workout, just play tag with a kid. My poor heart was racing like I had been doing a hard core Zumba class!
The park was filled with families that evening. A few other parents and grandparents had been watching me unsuccessfully trying to catch my monkey of a son, who was always a good ten steps ahead of me. Ethan headed toward the stairs on a piece of playground equipment. Just as he arrived at the bottom step another woman who looked about the age of a young grandmother reached out and grabbed him in a loose hug saying, "Gotcha!", so that I could catch him. I let out a whoop and started chanting, "Moms! Moms! Moms!", as she let him go into my arms. It was a spontaneous fun way to join our game.
I didn't think about it at the moment, but as we were walking back to our hotel I wondered if the same thing would have happened in Canada or the United States. In Canada there is much less physical contact between individuals. As well, there is a very pronounced fear of being accused of harming a child or of having one's child harmed. I know that I personally would never dream of grabbing another mother's child, if I was not already well acquainted with the mom. This makes me wonder if that woman's actions were seen as unusual by the other parents and grandparents in the park. From what I remember, no one else seemed to bat an eye. Possibly her actions were socially acceptable because we were both women and I was right there. Whatever the reason, it is a pleasant memory for me. I felt like our family was, for a short time, part of the neighbourhood. Despite the size of Guadalajara, I didn't feel like an anonymous foreigner that evening. My family and I were part of the park community.
Community and family are two very important aspects of Mexican culture. I remember flying into Playa Del Carmen with my husband many years ago on our honeymoon. A single mother was standing behind us in the customs line with three young children, the oldest of which might have been about five or six years old. Seeing her trying to keep three little ones happy and controlled all on her own, a customs officer came over and told her that she could go to the head of the line and actually helped her with her bags and children! We didn't have any kids at that time, but we were still impressed that they allowed her to go ahead. It was a memory that has stayed with both of us and quite possibly partially fueled our desire to move here. I saw this aspect of Mexican culture again in our hotel.
Semana Santa (Easter week) is a big holiday in Mexico and on the long weekend our hotel filled up with Mexican and foreign guests. It interested me that the Mexican families seemed to come back to the hotel relatively early and then congregated around the pool. It seemed to me that the Mexican families that we saw at the hotel were not coming to the city to be tourists, but rather to reconnect with loved ones. Large groups of parents, grandparents, aunties and uncles would hang out in the deck chairs chatting over tables laden with takeout containers and convenience store purchases while the kids played in the pool sometimes to the point of open war.
In contrast, we stayed out much longer exploring the city and then hit our room to watch a movie together. Sometimes we even took a well deserved siesta. We too were enjoying family time, but it was on a smaller scale. Seeing the families eating and catching up made me a bit wistful recalling camping trips and barbecues with our families back home in Canada. I hope to someday have a large family gathering like I witnessed at our hotel. It would be wonderful to welcome our family to our new, Mexican home.
Guadalajara seems to have an endless list of activities and attractions to keep visitors busy. I've only touched on a small portion of them and I wrote two articles! It is a long, winding drive from Puerto Vallarta, but it is certainly worth it. We will definitely return soon. After all, Ethan needs to buy more Pokemon!
Did you miss Part 1 of My Marvelous Mexican Midlife Crisis goes to Guadalajara? You can read it here!