Puerto Vallarta (PVDN) – In Mexican gastronomy, one of the ingredients that usually accompanies most foods is chili. The different varieties of species of this condiment have generated a debate among the country's population to define which one is the spiciest or has a powerful flavor.
According to the Ministry of the Environment and Natural Resources, in Mexico at least 200 Creole varieties and 64 of the domestic type have been identified in the country, so its use in gastronomy has also had numerous variations since it is consumed in sauces, moles, broth, raw, cooked, roasted, stuffed, among others. But, to define which is the hottest chili in Mexico, The World Food Atlas ranked the 35 hottest chili peppers worldwide and included some species in Mexico. Based on the Scoville scale, which qualifies the level of acrimony or power in its sting, they revealed the qualification that each of these species has.
Within the top 10 hottest chili peppers, it ranked the hottest habanero chili in Mexico as it ranked ninth, followed by habanero chocolate from Jamaica.
Some of the states where the largest habanero pepper crops are produced are Baja California, San Luis Potosí, Sonora, and Tabasco, as well as Yucatán, Quintana Roo, and Campeche as the most favorable places to grow it. According to the Ministry of Agriculture and Rural Development (Sagarpa) of these entities comes the production of up to 50% for its commercialization.
In Yucatan, the habanero chile is one of the most used ingredients for the preparation of typical dishes with high heat in their flavor.
The habanero chile plant is considered herbaceous or shrub type, it can reach a size of up to 2.5 meters high. When the fruit is not ripe yet, it is green —which is when it is less spicy—, it is consumed when it reaches an orange and red hue, when it reaches the latter color it is when it is ripest and has a high level of spiciness.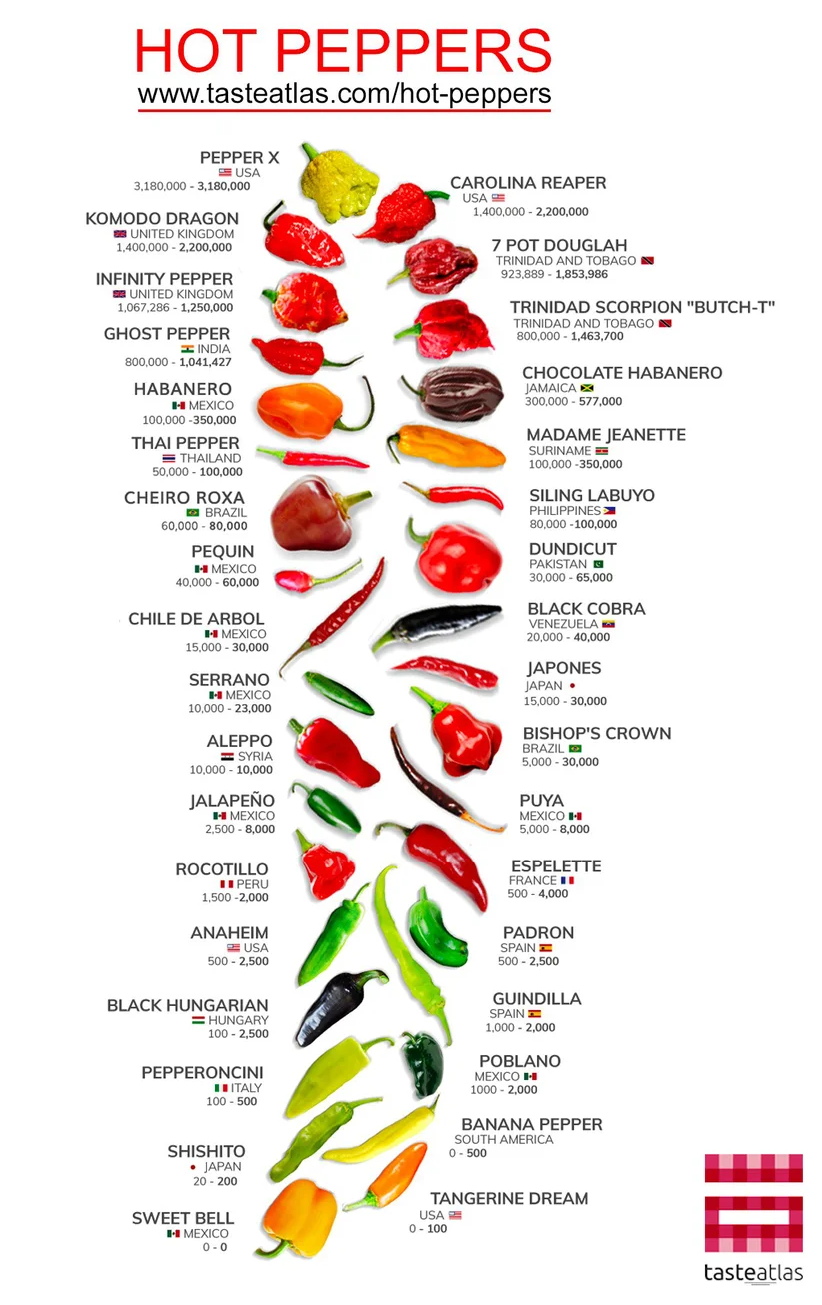 The second hottest chile in Mexico is the piquín, it is also known as amashito chile in some regions of Mexico. It occurs mainly in Tabasco for its use to make sauces, it is also usually eaten alone. The piquín pepper was ranked 14th in the world ranking.
The chile de árbol was ranked 15th worldwide, but at the country level, it became the third hottest chile. It should be noted that the consumption of this fruit is customary when it is dry and is characterized by having an intense red color. Other names by which it is known are chile alfilerillo, chile bravo, rat tail, pico de paloma, or chile sanjuanero.
Then it is followed by serrano chile, which was ranked 16th in the ranking. It is also known as green chili because, unlike the habanero, it is consumed when it is still green, it is not required to ripen because once it turns red and begins to dry, it loses its spicy flavor, and it can be used in another way for marinades and stews with less spicy sauce.
The jalapeño also entered the category, but worldwide it was rated with a degree of heat from 2,500 to 8,000 Scovilles, that is, it falls into a mild heat classification. Its name "jalapeño" comes from Xalapa, Veracruz, a place where this type of pepper abounds.
Finally, the chile poblano or chile ancho ranked 30 out of 35, so in Mexico, it is one of the least spicy. Its use is more common when it is dry, although it is also eaten as a filling.
These are the hottest chiles in Mexico according to the Scoville scale :
Habanero
Piquin chili
Chile de árbol
Serrano or green chile
Jalapeno
Pueblan
Subscribe here for as low as .08 cents per day to access exclusive content and join the PVDN Newsletter, and browse this site with fewer ads. (Why subscribe?)
Trending news on PVDN